Many Filipino employees face challenges related to money matters, making financial well-being a priority for every employer. Yet, some barriers stand between employees and access to financial services.
Advance strives to eliminate these obstacles through Instacash, Sprout's salary advance tool. You can read more here if you want to know why InstaCash is important, how it works, and how employees benefit from salary advances.
Sprout and Advance helped multiple clients overcome financial challenges, which was also why they decided to renew this exciting partnership. As said by Stef Lim, Chief Operating Officer (COO) of Advance:
"We see this partnership evolving to impact more of the financial lifecycle of our customers. Our long-term goal for the collaboration is to elevate the financial well-being of both employers and their employees by providing access to the financial services they need, when they need them."
Sealing the Deal: Making Financial Services More Accessible
Sprout and Advance solidified their partnership by signing a Memorandum of Agreement (MOA) on April 25, 2023. This strategic collaboration aims to enhance financial well-being through accessible and comprehensive financial services.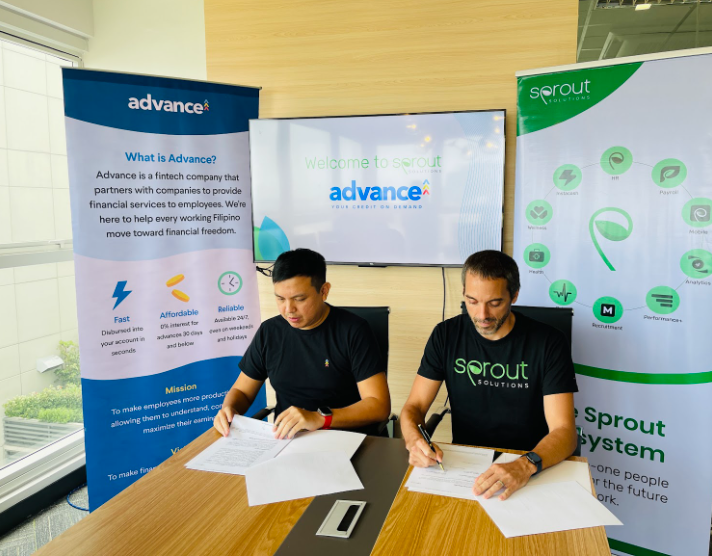 Through this partnership renewal, both companies are committed to empowering employees and employers with the necessary tools and resources to navigate emergency financial situations. Stef Lim, COO of Advance, shares:
"We envision this partnership with Sprout as a way for the HR tech industry to provide a more holistic, inclusive, and impactful approach to benefits without adding to their existing workload. Given the economic climate, there has been a stronger need for financial wellness solutions and we see Advance x Sprout as HR's partner in addressing these needs safely with our expertise in the space."
With a shared vision of improving financial outcomes, Sprout and Advance are dedicated to delivering exceptional value and support to clients at every step of their financial life cycles.
Sprout x Advance's Partnership Renewal: What to Expect
Sprout's stronger tie-up with Advance comes as the latter plans to offer more financial products.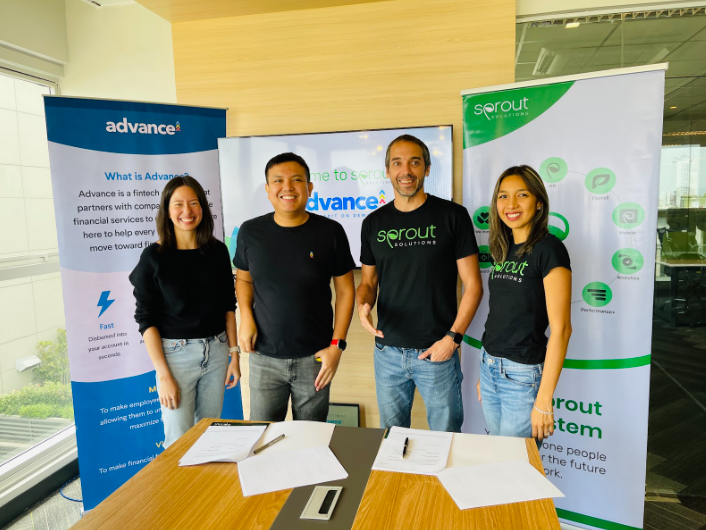 When asked about the specific products or services that Sprout and Advance will continue to work on together, this is what the Advance team had to share:
"On top of our salary advance product, we plan on expanding our product suite to continue impacting the financial well-being of Filipino businesses and their employees. This includes both credit and non-credit products, such as insurance, savings, and long-term loans for employees and working capital lines for businesses."
With this ambitious vision, the partnership between Sprout and Advance is poised to empower both organizations and individuals.
Empowering the Local HR Tech Industry: A Game-Changing Partnership
The Sprout-Advance partnership is a game-changer for the Philippine HR tech landscape because it promotes a more comprehensive, inclusive, efficient, and time-saving approach to benefits.
Thanks to digital HR solutions, employers can cultivate an engaged workforce and foster stronger relationships with their employees. Given the current economic climate, financial wellness solutions have become indispensable, and Sprout and Advance's combined expertise equips HR teams to meet this critical need head-on.
Together, they are revolutionizing the HR industry and empowering organizations to thrive in an ever-evolving business landscape.
Elevate Your Workforce's Financial Well-Being with HR Tech Solutions
Prioritizing the financial well-being of your workforce offers significant benefits, including reduced absences and increased productivity. After all, when team members feel financially secure, their performance soars.
Focusing on financial well-being is a powerful tool for retaining top talent. With trusted HR tech and financial services from Sprout, your organization can unlock these advantages while streamlining time-consuming processes.
Ready to explore the details of Instacash? Get in touch with our team today. For the latest HR tech updates and insights, visit our blog and stay ahead of the curve.