Maintaining your professional relationships online is hard; gone are the regular in-office sports tournaments to boost engagement. However, friendly competition doesn't need to be face to face anymore. Introducing Esports at work can be a great way to get employees more engaged with their work environment.
Right now, companies in the Philippines are experimenting with incorporating Esports in their workplace. These companies see it as a way to increase communication and collaboration among their employees while cutting down the financial costs of entertainment for their employees. The most common example of Esports at work is when video game developers let their gamers play against each other on company time. This way, the developers get access to feedback about new updates while keeping the gamers engaged and happy at work.
However, you do not have to be a game developer to engage your employees through Esports; any company can easily use this technique for their employees. We highly encourage employers to invest in Esport activities for their employees by providing space for them to play and create a healthy competitive environment that encourages teamwork and collaboration.
They can also positively affect employee health by decreasing stress and improving physical activity. The idea behind Esports events in the Philippines, particularly in the office is that gamers want to feel like they are at home or outside of work, so they bring that feeling into the workplace by creating spaces for them to play. The benefits of this trend are endless - it increases morale, improves productivity, and creates a more inclusive culture for employees of all levels.
If you are interested in involving your company in an Esports competition, keep reading.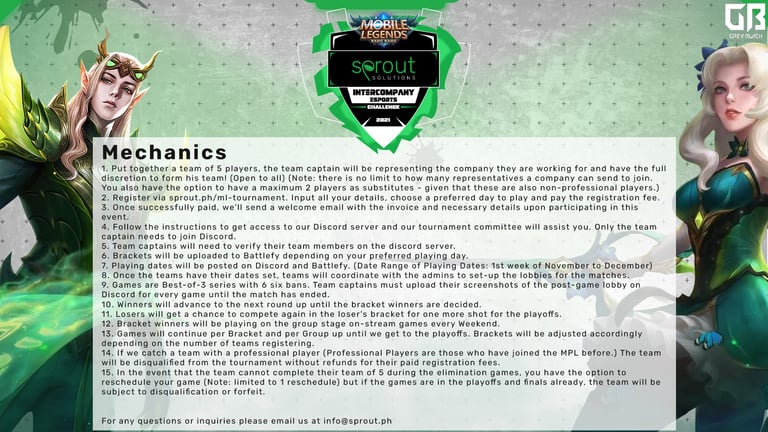 MOBILE LEGENDS have now made it to your office. Compete with other offices and get a chance to win Php 250,000! Team up with your colleagues and bring out your best heroes! Prices are set at Php 200 a person! The mechanics are simple so, register now!
If you have any inquiries, email [email protected] now!
**Registration ends on October 30, 2021