March has shaped up to be the most eventful month of the year at Sprout. I say this with full conviction even though we're only three months into 2023. After our Growth Kick-off last January 20th, I knew we were in for delirious highs and inevitable lows as we continue to #Raceto10M. After all, March also happens to be the same month as SaaScon PH, the biggest B2B SaaS conference in the Philippines, organized jointly by Sprout and Kaya Founders.
But the highlight of the month was our company-wide women's month festivities, which coincided with our long-overdue company photoshoot and biggest General Assembly (GA) since the start of the pandemic.
I wanted to have a blast, so I decided to dye my hair a fiery shade of red. Did I go overboard? I think not. I just really wanted to make sure I would stand out in our company photos, and I was, so to speak, a "Woman on Fire."
As we celebrate women's month this March, we recognize and celebrate the incredible accomplishments of every badass Rockstar breaking barriers here at Sprout. I took it upon myself to get up close and personal with some of our most inspiring women tech leaders for an interview.
Even though I'm still a newbie to the tech industry, it felt comforting and reenergizing to get to know about all the empowered women who have made strides in a field that would otherwise be considered challenging and intimidating. Here are some of the insights I got.
Miren Eizmendi
It was after a video case study shoot that I decided to pull in Miren for a short interview. We ended up in a quaint little cafe called Coba Cafe & Bar in Ortigas that we both agreed was a beautiful hole-in-the-wall cafe perfect for solo coffee dates because of the lovely jazz tunes playing in the background.
I watch Miren sip her iced coffee in that picturesque cafe. Before the interview even begins, I can sense that this is a young lady who is confident and articulate. It's no wonder she's one of Sprout's biggest homegrown talent.
Despite her outgoing and bubbly personality, I was surprised when she told me she was an introvert deep down. Miren said she would try her best to conserve her energy and take herself for coffee or read books to restore her energy after a day of socializing. It was touching to watch her open up and show me her soft side.
What is your role at Sprout? How do you contribute to our North Star?
"I'm the Product Marketing Manager at Sprout Solutions. I consider product marketing the voice of the customer. I always tell the team that it's up to us to be able to take in all this information that we get from the customers and turn that into stories to help explain what our products and services are in the best way possible."
Miren and I talked about her humble beginnings in Sprout before she stepped into her role in product marketing. She was the first product marketer in the company and was initially on the Product team. From starting out as a tiny sapling in Sprout, Miren has now grown into a mighty tree as she manages Product Marketing.
When I asked her about her female role model, she said, "Kind of a cliche answer, but my mom. She was very encouraging in everything that I wanted to do. Even though it was an intimidating industry like tech and a very demanding role, she was very supportive of it."
I smiled and thought that if I had been asked the same question, I would have said point blank that my mom's my biggest hero, too.
As a woman in the tech industry, how do you achieve work-life integration?
"I learned this in Sprout: it's a company that integrates both our personal and professional life. So, it's no longer work-life balance because when you think of it, it's like you have to sacrifice one to maintain the other. But in Sprout, it's all about work-life integration where the two support each other."
When Miren said, "I bring my whole self wherever I am" her words rang true, and I understood what she meant. She believes it's essential to recognize and accept that work and life should not be seen as two opposing entities; instead, they're two sides of the same coin.
When asked about her advice for a woman considering a career in the tech industry, Miren shares:
"Don't think about the stereotypes or the industry. Consider what you're interested in and what you won't get tired of learning about. And when you figure that out, I'm sure you'll find something special."
Miren's journey is a true success story, and I am positive she will continue blaze-a-trail in the tech industry as my fellow UA&P dragon.
Elizabeth Fodulla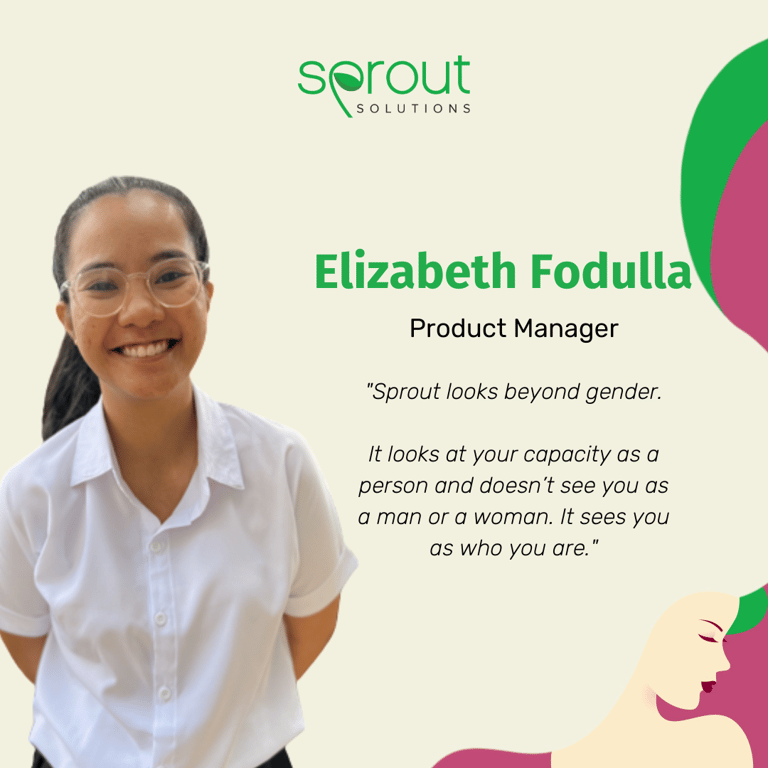 Izzah and I met in a way that we both considered unorthodox, but I'm grateful that we crossed paths and somehow ended up in her orbit. From her talk during the latest Sprout Circle event to getting up close and personal with her, I consider her fascinating.
Among all the interviews I conducted, I found myself charmed by her presence the most during our conversation. She is truly an empowered woman, and I was surprised to find out how deep her waters ran.
She shares that one of her favorite characters is Olivia Pope from the TV series Scandal, who stands out as the charismatic anti-heroine: ambitious and tenacious, but at times conflicted by her greed and power-hungry nature. What strikes Izzah the most about her character is how she never gives up and is unyielding in loyalty to those close to her—a true gladiator in a suit.
What is your role at Sprout? How do you contribute to our North Star?
Of her current role at Sprout, Izzah shares:
"I'm a Product Manager here at Sprout, which includes the Sprout Ecosystem and also the mini-apps and indications. What we do in the Ecosystem is build a platform that connects different products and workflows in one dashboard to make things easier. Since our north star is improving the lives of the Filipino people, we create products that cater to that vision."
When we started discussing questions about women's empowerment, it was clear that Izzah is a feminist. This was apparent in her responses, and when I asked her about gender equality in the workplace, she responds with a customary eyebrow raise, as if she expects me to already know the answer.
Based on what I know of Izzah, she isn't a new entrant in the tech field. She's worked with companies like Aiah before, which inevitably led her to Sprout. She shares this advice for aspiring women leaders looking to grow their career here:
"Sprout looks beyond gender. It looks at your capacity as a person, it doesn't see you as a man or a woman. It sees you as who you are…and also there's also diversity here, everybody is welcoming. You feel safe going to the office or working from home knowing that there is no gender bias at all."
She emphasizes that for years, the tech industry was heavily dominated by men. But now, we see female leaders, developers, and innovators actively pushing boundaries. The future in sight is one where men and women can both move forward with ambitious goals for product development and innovation.
As we cap off the interview, Izzah encourages those considering a career in the tech industry to step forward without fear of judgement and holding back. "I say go for it!" she says. "If you can think of it, it's always possible."
Shaira Lyn Abdon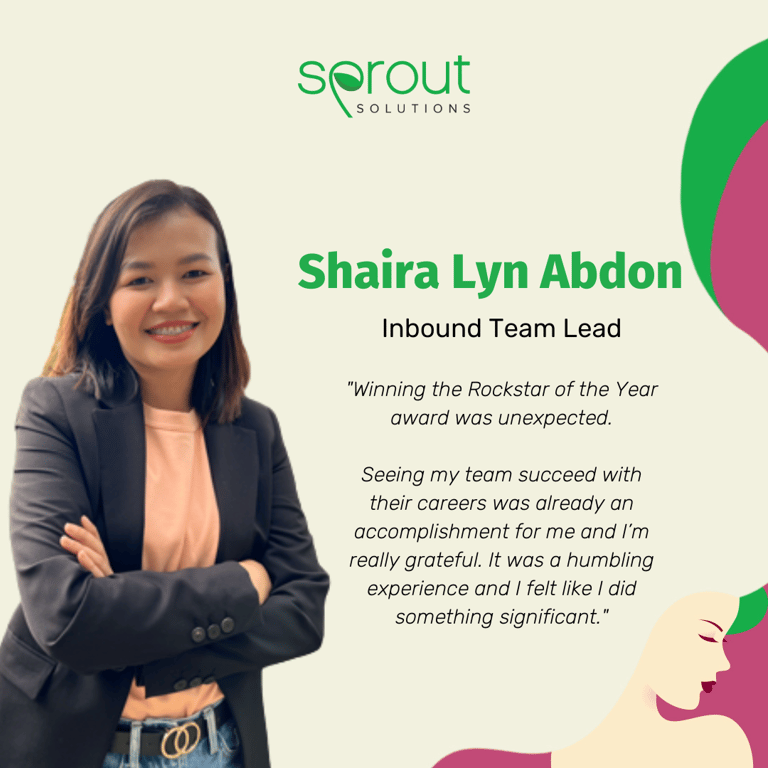 I have always been drawn by Shaira's energy because of her gentleness and warmth. She's one of the most down-to-earth people I know.
Even though it seems incredibly out of character, Shaira is a certified high school math teacher with a mathematics degree. If she could start over in her career, she would pursue veterinary medicine because of her great love for her furry pets.
What is your role at Sprout? How do you contribute to our North Star?
"I am currently leading a team of four amazing individuals. We're part of the Inbound Marketing team. Our team is responsible for all incoming increases from our marketing channels and our official social media sites. So, we're basically the frontliners of Sprout."
Shaira upholds radical candor, which describes the ability to "challenge directly while caring personally." Her goal is to create a culture where healthy feedback is welcome so everyone can comfortably express themselves freely without fear or judgment.
I have to agree with Shaira that Sprout's radical candor principle is what sets our company culture apart as I haven't experienced it anywhere else.
Tell us about a female role model you look up to and why.
"The female role model that I will always look up to would be my mom. One of the things that I admire about her the most is her grit. Her grit inspires me to always look at the end goal and to continue pushing forward, especially during the most difficult times."
I couldn't help but prod Shaira a little bit more and ask how she clinched the "Rockstar of the Year" award last year. I had a feeling that the steps leading up to it were difficult, and with a somewhat heavy sigh, she says, "I guess every year is the most challenging year than the last, and last year was one of the most difficult ones I've experienced."
Shaira mentioned juggling multiple tasks, such as personal KPIs and quotas, on top of her management reports. Still, the Lead Development Unit (LDU) she is a part of, earned the "Band of the Year" partly because of her unparalleled contributions.
But the one thing that strikes me the most is what Shaira said about the award catching her completely caught her off guard. She shares:
"The award was really unexpected, but last year was full of wins and struggles. Seeing my team succeed with their careers was already an accomplishment for me and I'm really grateful. It was a humbling experience to get that award. I felt like I accomplished something significant."
After hearing that, it made me realize that Shaira's hard work paid off because of her tenacity, grit, and ability to stay strong in the face of adversity. She taught me that real achievement isn't about the awards and recognition; it's about driving impact and inspiring a positive change in others.
Kharen Malazarte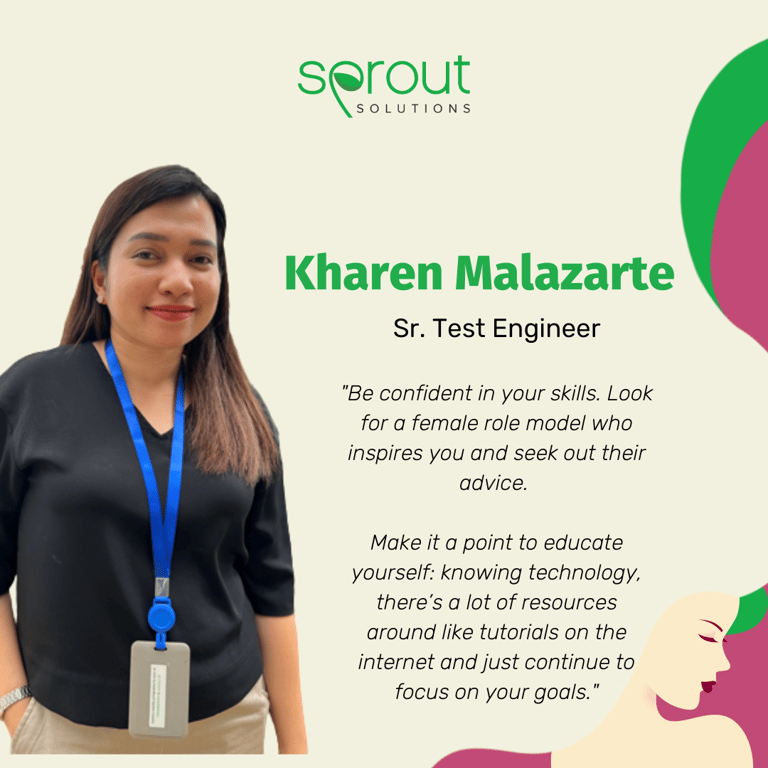 Kharen and I hadn't interacted before the interview, but her team put in a good word for her and said she'd be the perfect fit for the women's month feature. They were right.
Kharen took to the interview like a fish to water and greeted me with a warm smile that made me feel like we'd known each other for years. And to make our conversation extra special, we decided to have it in the new meeting room at the office.
Kharen said she would love to meet Wonder Woman from DC Comics because of her boldness and bravery. She says she's a perfect example of a woman achieving great things.
What is your role at Sprout? How do you contribute to our North Star?
"I'm one of the Sr. Test Engineers here in Sprout. I contribute to our north star by ensuring that our products are of high quality and by ensuring that we meet the expectations of our customers."
Kharen is one of our Sr. Test Engineers and has been with the company since 2019. She shares, "Here in Sprout, our outputs are recognized regardless of our gender. It never felt like there's a glass ceiling preventing women in tech from achieving the role that we deserve."
Despite this, Kharen talks about how challenging working in the tech industry can be. Working hours can sometimes feel grueling, especially during nighttime deployments or when faced with product issues. This is why she always makes herself reachable in urgent situations to give a helping hand.
She offered a few tips about how to manage her workload and I've taken these to heart. She makes a to-do list to prioritize urgent tasks, establishes clear boundaries, and only responds to emails and chats if they're urgent.
What advice would you give to a woman considering a career in the tech industry?
"Be confident in your skills. Look for a female role model who inspires you and seek out their advice. Make it a point to educate yourself: knowing technology, there's a lot of resources around like tutorials on the internet and continue to focus on your goals."
As she finishes talking, I realize that Kharen is no different from Wonder Woman. During times of need, she's always around to provide the help and support everyone needs.
Crissy Partosa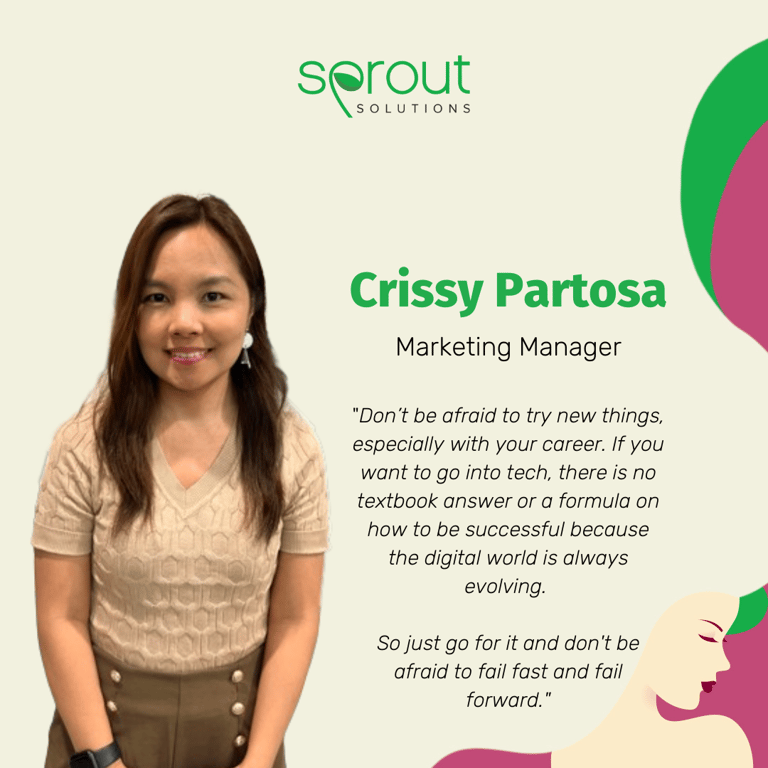 I want to say that Crissy is one of my favorite people at Sprout but I feel like nobody would believe me since I report directly to her (lol).
But truth be told, Crissy played a significant role in my decision to officially join the Sprout team. I had already been working with her directly for about a year, but I was on the other side of the fence as a member of Sprout's partner agencies.
Though client calls with her were few and far between, she had an infectious smile and always made light of stressful situations by breaking into a lovely peal of laughter. And it was partly because of my exposure to her that pushed me to join Sprout.
This year, Crissy decided to live a healthier lifestyle. She has eliminated junk food from her diet completely and consumes nothing more than 1,500 calories in a single day. Need I ask why she's always looking and feeling fresh?
I managed to corner her for a short interview after the Demo Day event held at the KMC One Ayala office. She was completely in her element, like she always is. Though it had been a long day, she graciously accepted my interview invite with a warm smile.
What is your role at Sprout? How do you contribute to our North Star?
"I'm Crissy, Marketing Manager at Sprout. Together with the team, we drive awareness about Sprout's products and services through print or online channels and events."
Crissy says Sprout is an ideal space for female leaders to pursue their dreams because our company culture embraces radical candor. She says that women here feel empowered and free to share their ideas, even when their opinions are different from the rest. She believes that this is how people at Sprout create a lasting impact.
When I asked her for advice to women considering a career in the tech industry, she had this to say:
"Don't be afraid to try new things, especially with your career. If you want to go into tech, there is no textbook answer or a formula on how to be successful because the digital world is always evolving. So just go for it. Be open to learn along the way, take trainings if needed, and don't be afraid to fail fast and fail forward."
I'm really grateful to have had this opportunity to get to know some of Sprout's women tech leaders. As our team continues to grow (we're almost 300 Spartan strong this April), I know that I've barely scratched the surface and that I'll continue to meet new people here that inspire me. I'm excited beyond belief and compare.
Regardless of your achievements or your gender, I hope that you've found something in these great women leaders that's worth emulating.
In the meantime, may this serve as a reminder for companies to create an inclusive work culture that's open to all. To make this happen, there's a need to eliminate unconscious biases during hiring, provide personalized benefits that address employee needs, and create opportunities for continuous learning and growth.
To my fellow Rockstars, thank you for inspiring us and embodying the qualities of a true leader. May we continue on our path to impact the life of every Filipino by improving business in the Philippines.
If you want to learn more about what it's like to work at Sprout, check out our Life at Sprout Facebook page. We'll be releasing the women's month interviews there as well so stay tuned!
Check out our website to learn more about the Sprout Ecosystem and why we're the most trusted HR platform here.