We know that understanding wage structures can be tricky sometimes, especially when trying to figure it out for different regions.
Let's make that easier for you.
Here, we'll look at the current minimum wage in Davao, the reason for the increase, and what you need to know as an employer.
What Is the Current Minimum Wage in Davao?
The current minimum wage in the Davao Region varies depending on the sector and industry, ranging from ₱438 to ₱443 per day.
For the non-agricultural sector, industrial/commercial and retail/service employing more than 10 workers have a set minimum wage of ₱443. Retail/service employing not more than 10 workers also have a set minimum wage of ₱443.
As for the agricultural sector, the minimum wage is ₱438. Lastly, for domestic workers, chartered cities, first-class municipalities, and other municipalities have a minimum wage of ₱4,500.
Here's a more detailed look at the minimum wage in Davao in a tabular format: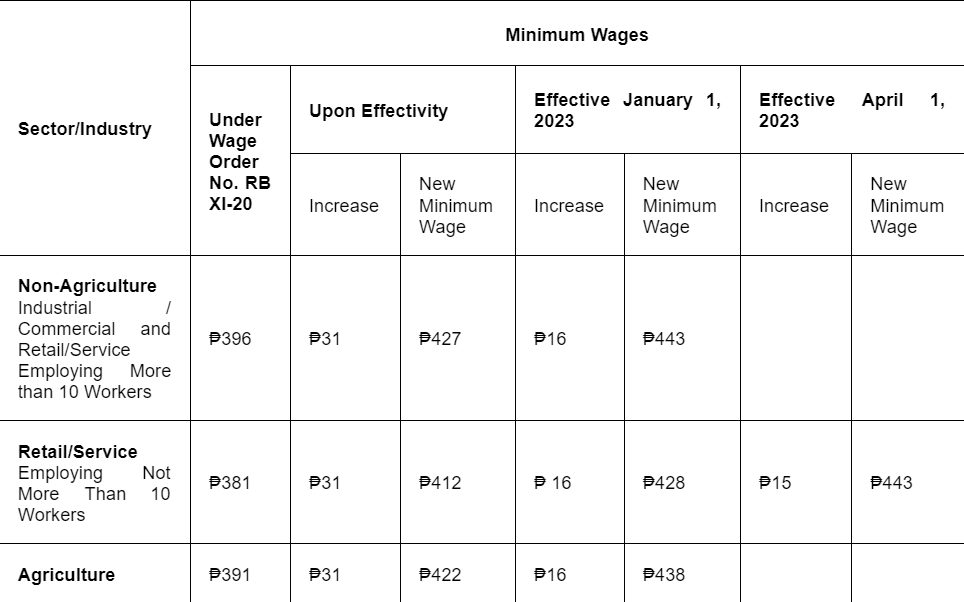 A table illustrating the current daily minimum wage rates in Region XI (Davao region) a/ Per Wage Order No. XI-21 b/ (Effective: June 19, 2022)
| Area/Location | Current Minimum Wage Rates | New Wage Increase | New Minimum Wage Rate |
| --- | --- | --- | --- |
| Chartered Cities and First-Class Municipalities | ₱3,000 | ₱1,500 | ₱4,500 |
| Other Municipalities | ₱2,000 | ₱2,500 | ₱4,500 |
A table illustrating the current daily minimum wage rates in Region XI (Davao region) for domestic workers a/Per Wage Order No. XI-DW-02 b/ (Effective: June 20, 2022)
The Reasons Behind the Increase
Since January 1, 2023, Davao's non-agricultural and agricultural sectors saw a minimum wage rate increase of ₱16. An additional and final tranche of ₱15 was allocated to retail/service employing not more than 10 workers from April 1, 2023.
This adjustment represents the second phase of a wage increase, which has been in the pipeline since Wage Order No. RB-XI-21 was issued on June 19, 2022.
Image from Sunstar/Davao
The reason for this increase can be attributed to prevailing socio-economic conditions in Region XI, taking into account the Consumer Price Index and the poverty threshold as provided by the Philippine Statistics Authority. In fact, during January 2023, the Davao Region recorded the third-highest inflation rate in the country, experiencing a significant surge of 9.4%.
According to the Philippine Statistics Authority (PSA), inflation in the region has been on the rise since August 2022, primarily driven by the escalating costs of housing, water and power rates, and fuel expenses. This marks the fourth-highest inflation rate for the Davao Region since January 2022.
As a result, the minimum wage rate has increased to provide workers with basic and adequate living standards. The order, issued by the Regional Tripartite Wage and Productivity Board (RTWPB) XI, is expected to protect 154,763 minimum wage earners in private establishments and 64,111 domestic workers in the region.
Who Are the Workers Covered in Davao's Minimum Wage Increase?
The wage increase will apply to all minimum wage earners in the private sector within Region XI, regardless of their position, designation, employment status, and mode of wage payment. This measure aims to ensure fair and equitable compensation for all workers in the region.
The covered cities include Davao, Digos, Island Garden of Samal, Tagum, Panabo, Mati, and the provinces of Davao del Sur, Davao del Norte, Davao Oriental, and Compostela Valley.
Navigating Wage Regulations Seamlessly in Davao
For employers in the Davao Region, the increase in the minimum wage for 2023 will significantly impact their business. Here are a few best practices that you should consider to ensure that you are compliant with the new law and continue to provide proper wages for your employees:
Understand the New Law: It's essential to familiarize yourself with Davao's new minimum wage laws to determine what changes you need to make. During a press briefing in June 2022, Director Randolf Pensoy of DOLE-11 reassured that employers who fail to comply with Wage Orders RB XI-DW and RB XI-21 will be fined up to ₱100,000 or imprisoned for a minimum of two years. Thus, employers should ensure that they are up-to-date with all the changes.

Review Your Payroll System: Check your payroll system and make necessary adjustments to pay all your employees the required wage. This includes updating salary records, timesheets, and bonus calculations.

Assess Your Labor Costs: Taking a closer look at your labor costs can help you determine where you can make cost savings. This may include automating certain tasks or outsourcing work to maximize efficiency and reduce overall costs.

Communicate With Employees: Make sure to communicate the new wage laws with your employees and any changes made to your payroll system. This helps ensure everyone is on the same page and minimizes any confusion or conflict.

Monitor Compliance: Finally, you should monitor your compliance with the new wage orders to ensure you align with all regulations. Keeping an eye on your records and staying up-to-date with any changes can help protect your business from potential violations.
Take The First Step Towards Pay Equity
Davao's minimum wage increase is a significant change set to impact both workers and employers in the region. Considering the rising living costs, it's a move towards ensuring fair compensation for work.
As an employer, it's crucial to understand the implications of these changes and take the necessary steps to ensure compliance. Automating your HR process is one of the best ways to do this.
Sprout Payroll can help you stay government-compliant, streamline the payroll process, and ensure accuracy. Payroll lets you avoid additional costs by preventing payroll discrepancies. This can help you build confidence by eliminating human error and inaccurate payroll filling/tracking.
Sprout HR offers another excellent solution for employers and HR admins. It is fully compliant with government regulations and certified by DOLE. With Sprout HR, you can conveniently store and display employees' basic information and government IDs while also attaching relevant documents. Its comprehensive digital 201 file system ensures efficient management of employee records.
Sprout's suite of solutions can help you comply with the new minimum wage increase and ensure your employees are compensated fairly.
Book a consultation now and take the first step towards pay equity.
To know more about the minimum wages in the country, click here to check out Manila's minimum wage.